Odessa's port plays a key role on the Black Sea.
The HHLA container terminal prepares for further growth.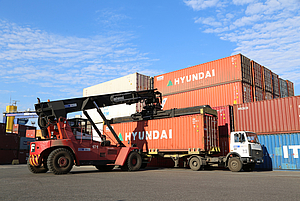 The city of Odessa and its port are inextricably linked. It is unclear which was built first when the Russian empress Catherine the Great instructed that Odessa be founded in 1794. She wanted to establish a base for her fleet on the Black Sea – and, of course, lucrative trade was also a factor. Today, Odessa is home to one of Ukraine's most important ports, from where dry bulk cargo in particular, such as cereal, is exported. In terms of container handling, Odessa is Ukraine's leading port, and its biggest facility for this is the HHLA Container Terminal Odessa (CTO).
In 2016, CTO handled more than 280,000 standard containers (TEU), which was an increase of almost eleven percent on the previous year. The forecasts also paint a bright picture. Since 2016, the Ukrainian economy appears to be stabilising. The effects of the conflict in the eastern region bordering Russia, approximately 700 kilometres away, are scarcely felt here. The people of Odessa are proud of their open and international city, where people of 130 different nationalities live.
The same is true of the port. The staff members at CTO, whose families are mostly from Odessa, regard themselves as Russian-speaking Ukrainians. "For us, that's not a contradiction in terms", says CTO General Director Anastas Kokkin. "We are part of Ukraine, and we belong to the large HHLA family." Kokkin knows HHLA's terminals in Hamburg well. "We have a lot in common. Here, too, the port is within the city limits and here, too, we have to make efficient use of our space." Nevertheless, a further 19 hectares of new space has been filled up in addition to the existing 16 hectares at CTO in recent years. This area of the facility, which has been designated the quarantine mole, will gradually be integrated into terminal operations.
FLEXIBLE EXPANSION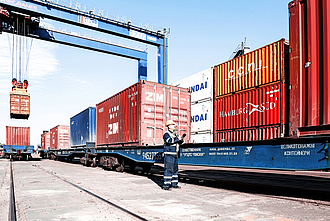 There are already three modern container gantry cranes on the new quayside. They can handle ships of up to 310 metres in length and with a carrying capacity of approximately 10,000 TEU. These "Bosphorusmax" ships are the largest ships that can sail on the Black Sea. As of 2017, the first storage spaces of a new container yard will be built behind the gantry cranes. CTO is basing its expansion of the facility on customer demand – and that appears to be growing.
"We still have another berth on the city side and can handle ships there too," says Kokkin. The container gantry cranes there can be flexibly accessed according to the customer's individual needs.
Although CTO focuses on container handling, the terminal team endeavours to meet customers' requests in a prompt and uncomplicated manner. CTO therefore sometimes also handles project cargo such as large drilling machines for natural gas extraction. "We are a multi-purpose terminal that focuses on container handling," says Kokkin, and points to the gantry cranes with rubber tyres that are stacking the steel boxes into compact blocks. They are also moving back and forth between the railway tracks where they load and discharge containers onto and from wagons.
The CTO rail terminal has two tracks, and approximately 20 percent of the cargo handled is transported to and from the terminal by rail. Construction work for the expansion of the rail terminal will begin in 2017. Two additional tracks are planned. CTO, which has been part of the HHLA Group for 15 years, is also preparing for growth here.