Odessa port and stevedores help in the fight against coronavirus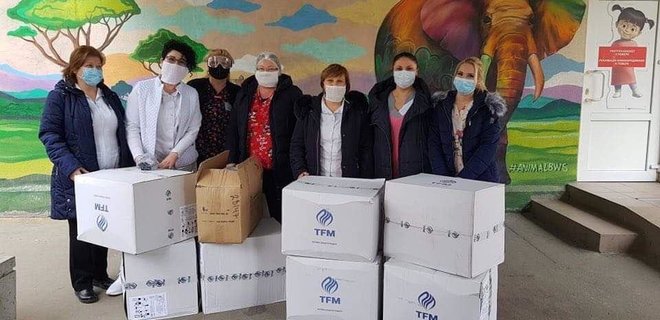 The Association of Stevedoring Companies continues to work actively as part of the worldwide campaign to combat the coronavirus COVID-19 - "Stay home!"
The news of the Association of Stevedoring Companies of the Odessa port these days resembles reports from the front. The association has been actively involved in the work of the regional headquarters against COVID-19 coronavirus. Thus, only in the second half of March, stevedores transferred several million to equip supporting hospitals and purchase protective suits for ambulance crews and staff of medical institutions. Port workers coordinate their humanitarian actions with the largest volunteer organization in the south of Ukraine "Corporation of Monsters" (recognized by UNICEF) and with the abovementioned Headquarters, which receives timely information on the needs of hospitals in the city and region, ambulance stations, etc.
The staff of the company "Brooklyn-Kiev" and its president Yurii Gubankov were one of the first to respond to the call of the Headquarters: the company purchased 40,000 respirators in the amount of about 3 million UAH, - commented Svetlana Yarovaya, representative of the Odessa Port Stevedoring Association. "Today, Brooklyn is constantly providing transportation assistance to the Headquarters of the city. On 30th March, 2020, Brooklyn-Kiev acquired 500 face masks with 10 removable screens for each. The total cost is 240 thousand UAH. 300 masks were transferred to the hospital for water workers (Vodnikov Hospital), 200 - to Chernomorsk. Now, at the request of Vodnikov Hospital, the company is purchasing containers for the disinfection of protective suits and a batch of disinfection mats." In addition, the companies "Container Terminal Odessa" and "Novoteh Terminal" paid an invoice in the amount of 2.5 million UAH - to purchase another 50.4 thousand respirators for the maternity hospital No. 5, the city clinical hospital No. 1, the regional, infectious and children's regional hospitals. Now other port stevedoring companies are also considering the possibility of further participation in the project.
The Stevedoring Association continues to work actively as part of the worldwide campaign to combat the coronavirus COVID-19 — "Stay home!". This work is aimed at social support of veterans of Odessa port, who were the first to be at risk and forced to isolate themselves in their own apartments. Today, the port's veteran organization numbers about 1,000 people. For this category, food packages are purchased, which volunteers from among the working employees of Odessa port deliver to pensioners' homes, - adds Elena Giryaeva, the coordinator of the project "Stay at Home" from the Odessa Port Stevedoring Association.